Vegan Citrus Tart
Add Comment14 August 2015, It was getting very late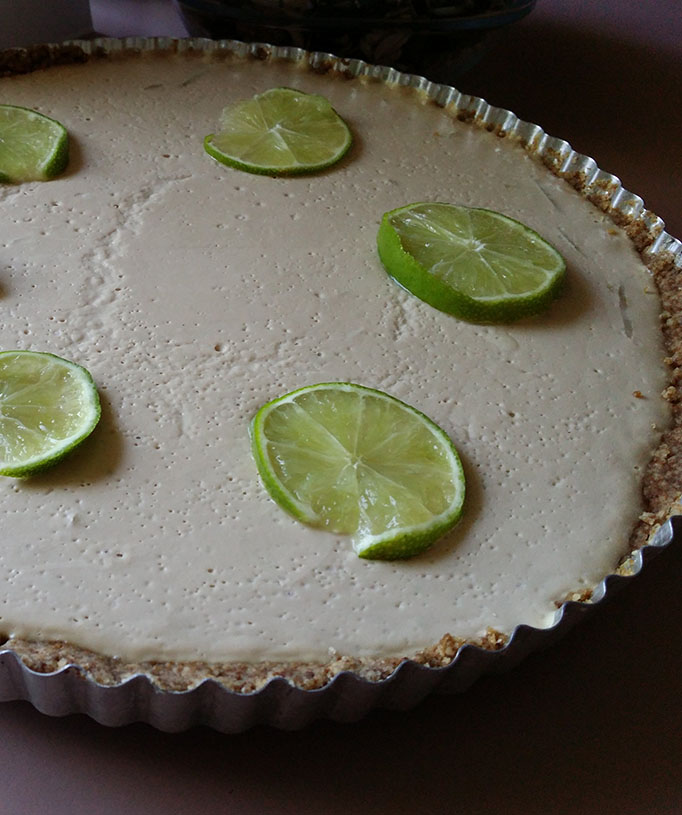 I may be an omnivore and generally try to eat a little of everything, but everything includes food that my friends, family, and co-workers eat—so when my awesome dairy-free co-worker was having a birthday, it was time to deliver. So then... I didn't want to stop at the dairy-free part. She also tries to avoid wheat and avoids refined sugars, including cane sugar. I do love a challenge!
I do not like to use soy or avocado in a key lime pie or tart recipe—to me, those seem a bit like cheating and don't appeal to me. I love avocados, but not in a key lime tart! Luckily, Isa Chandra Moskowitz has published this recipe for key lime pie using agar agar for the thickener. This is a great recipe and the filling produced is quite tasty. With the coconut sugar, the whole tart ends up looking a bit brown, but it's delicious brown food. :)
For the crust, I altered a go-to gluten free tart crust recipe from a baker I trust for such things. I only needed to trade out the butter and sugar—both fairly straightforward; the vegan shortening and coconut sugar are 1:1 substitutes.
The result is this yummy, gluten-free, dairy-free, alternative-sugar key lime tart. I hope the recipe is helpful for others!
Vegan Citrus Tart
Adapted from The Post Punk Kitchen and Saporific
Crust
1 cup brown rice flour mix (I use this mix)
1/4 cup coconut sugar
1 tsp xanthan gum
5 tbsp cold vegan shortening, cut into little cubes
1 tsp vanilla extract
Preheat the oven to 350 degrees. Grease a 9-inch tart or pie pan with cooking spray, and dust with rice flour.
In a food processor or mixer, combine flour, sugar, and xanthan gum. Add vegan shortening and pulse or mix on low speed until the texture is crumb-like. Add the vanilla and mix well.
Press the mixture into the bottom and up the sides of the prepared pan.
Bake on center oven rack for 18 minutes or until golden brown. Cool on rack in pan. (Remove sides only after completely cooled.)
Filling
1 tbsp lime zest
2/3 cup fresh lime juice
1 1/2 cups unsweetened almond milk, at room temperature
2 tbsp agar flakes (or 2 tsp agar powder and skip the soaking step)
16 oz coconut milk at room temperature
2 tbsp tapioca flour
1/2 cup coconut sugar
1 tsp vanilla
In a small saucepan, soak the agar in almond milk for about 15 minutes. Bake your pie crust for 8 to 10 minutes; remove from oven to cool.
While the agar is soaking, mix together coconut milk, tapioca, sugar and vanilla. It's really important that your coconut milk is at room temperature so that it doesn't affect the agar when you add it to the pot.
After soaking agar, turn up the heat and bring almond milk to a boil. Keep a close eye so that it doesn't boil over. Immediately reduce heat and let simmer for about 15 minutes, until agar is dissolved. (If using powdered, it will only take about 5 minutes to dissolve.)
Once dissolved, very slowly whisk in the coconut mixture and then the lime juice and zest. Adding it too fast will make the agar gel up, which you don't want it to do just yet. Once added, whisk often for about 10 minutes, until mixture has thickened. If it isn't thickening, turn the heat up just a bit, but be careful not to boil.
Pour mixture into pie shell and let cool on the counter for about half an hour, just so that it isn't steaming. Refrigerate for at least 3 hours, until fully set. Garnish with lime slices.