Chana Masala
Add Comment29 September 2011, Sometime after dinner
A few years ago, I decided with two other friends that a bring-your-favorite-Indian-dish party was definitely going to happen, and I elected to bring Chana Masala. They make it brilliantly at our favorite go-to Indian restaurant in the area, and we've made a few different varieties of it in the past, but I decided to do a ton of research and try to take the best techniques and ingredients out of all of the yummy recipes out there and try to form my own recipe. It was very well-received, and after making it again recently, I have decided that it is blog-worthy. This recipe goes very well with basmati rice (even better if you make a simple pullao) and naan or another yummy bread.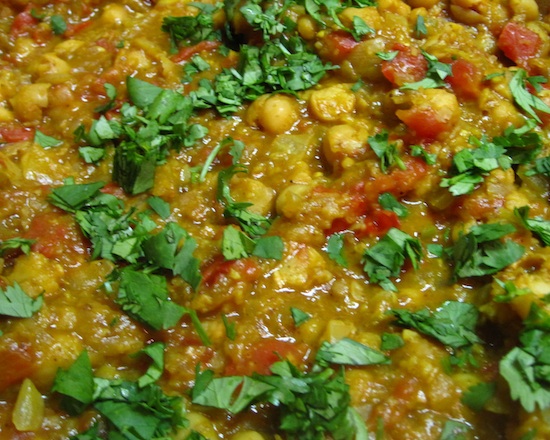 Chana Masala
Adapted from several recipes found online and in cookbooks.
Serves 4-6
2 1/2 cups cooked chickpeas
Take a cup of chickpeas and process/blend them into thick, smooth paste.
2 tsp coriander seed
6 tsp cumin seed
Toast the cumin and coriander seeds in pan or oven and grind to a powder.
2 tbsp peanut or canola oil or ghee
1 small onion, chopped
1/4 tsp asafoetida
1 1/2 inches ginger, peeled and grated finely
6 cloves garlic
1 serrano pepper, chopped
1/4 tsp ground turmeric
4 tomatoes, chopped
Cook the onion and the asafoetida in the oil/ghee over medium heat for 5 minutes, stirring occasionally. Add the ginger and garlic, serrano pepper, and the ground spices from before and cook, stirring, for 2 minutes. Add the turmeric and tomatoes and bring to a simmer.
1 tsp garam masala
1/2 cup water
1/2 tsp salt
4 tsp amchur (powdered mango); or use 1/2 lemon, juiced, or to taste
small bunch cilantro, chopped
Simmer the mixture until the tomatoes break down and reduce. Salt to taste, then add all the chickpeas and water. Simmer for 10 more minutes, until the texture is not too watery. Add the garam masala, lemon juice, and salt to taste. Top with the cilantro. Let sit for 10 minutes before serving to allow the flavors to come out.